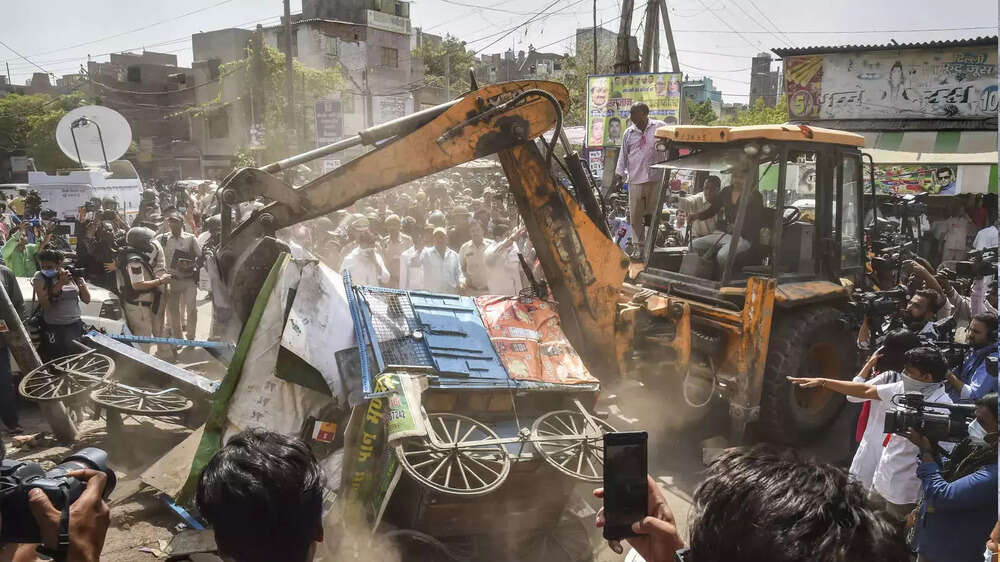 In the backdrop of this incident, a religious procession comprising approximately 500 individuals and 40 to 50 two-wheelers was proceeding through the Jahangirpuri area in the northwest region of Delhi. The participants, some armed, were engaged in a planned yatra to commemorate Hanuman Jayanti on the aforementioned date. Given the tense atmosphere, the local police were on high alert. It's important to note that Jahangirpuri has a significant community of Bengali-speaking Muslims who have resided there for half a century. The procession took place just six days following communal clashes during Ram Navami in multiple states including Gujarat, Madhya Pradesh, Jharkhand, and West Bengal.
Trouble unfolded as the procession reached a mosque around 6 pm, resulting in a confrontation between two opposing groups. Swiftly, the situation escalated, leading to the exchange of thrown stones. The police control room was promptly informed about the deteriorating law and order scenario. The violence escalated as rioters set vehicles ablaze along the road. The outnumbered police personnel found themselves caught in a barrage of stone pelting from both factions. Additional law enforcement personnel arrived, firing around 40 to 50 teargas shells to disperse the crowd. The injured, including both civilians and police officers, were rushed to the hospital for medical attention.
Notably, the required police presence in Jahangirpuri was insufficient, thus prompting the action to be scheduled for April 16 and 17. This decision raised questions, as the municipal authorities seemed to focus exclusively on encroachments within this dilapidated colony, while turning a blind eye for decades to the opulent and unauthorized Sainik Farms area. This situation bore resemblances to the concept of "bulldozer justice" observed in past instances, such as the actions taken by Yogi Adityanath, the Chief Minister of Uttar Pradesh, against those suspected of involvement in riots. A similar model had been implemented by Shivraj Chouhan, another Chief Minister from the Bharatiya Janata Party, in Khargone, Madhya Pradesh. In this case, 50 homes allegedly belonging to individuals involved in riots were demolished within the same week.
Brinda Karat emerged as a central figure on April 16, 2022, at 9.30 am. Seated in her office on the second floor of AK Gopalan Bhawan near Gole Market in Central Delhi, Karat had been informed about the planned demolitions the previous night. In response, she contacted PV Surendranath, a senior advocate and General Secretary of the All India Lawyers Union. Together, they resolved to take the matter before the Delhi High Court and the Supreme Court of India, ultimately managing to halt the demolition activities in Jahangirpuri.