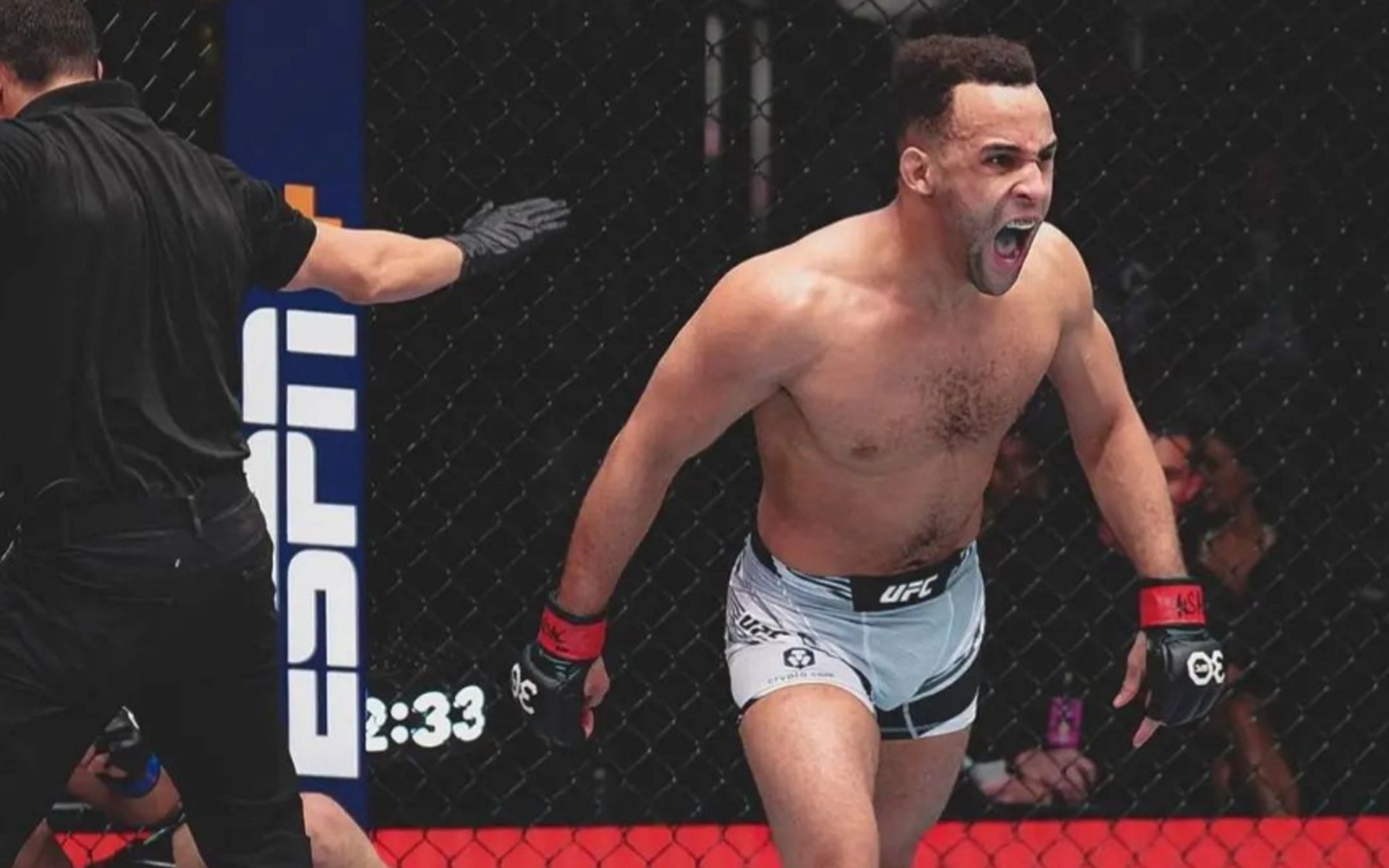 UFC lightweight Jordan Leavitt was ready to pull out of his UFC Vegas 82 fight against Chase Hooper at any moment until he made the walk to the famed octagon. Leavitt was set to make a competitive comeback at the event after his win over Victor Martinez in February 2023. The victory got him back in the win column after losing to Paddy Pimblett in 2022.
While speaking to the media at the UFC Vegas 82 Media Day, 'The Monkey King' revealed that his wife was due for the birth of their second child four days after the event. As a result, he had made up his mind to pull out of the contest if she went into labor on the fight day.
Jordan Leavitt said:
"So, my baby is due four days after the fight, so this has the potential to be the most stressful week of my life. That's my main concern for this entire camp; like, just don't go into labor on the weigh-in day or fight day and it'll be good because I'm sorry, I'm not gonna do the whole thing like, 'she's gone into labor, you gotta win this fight early.' No, I'm out."
He added:
"Fight is not happening and I'm gonna faint backstage, you'll see it. My wife goes into labor, I'm sorry, I'm not going. I'm not fighting. Sorry Chase, sorry UFC."
Watch Jordan Leavitt's full UFC Vegas 82 Media Day Interaction below:
Hoping that the fight comes to fruition, 'The Monkey King's' opponent Chase Hooper posted a witty message in response to his comments:
"Hope that baby stays put then [laughing emojis]"
Thankfully, the fight came to fruition, and Jordan Leavitt was able to make a walk to the UFC octagon. However, things didn't go as planned for him. Chase Hooper came out aggressively, winning the short back-and-forth fight via submission due to a rear naked choke.
modalPopup.closeOnEsc = false;
modalPopup.setHeader("Why did you not like this content?");
modalPopup.setContentText(modalText);
modalPopup.addCancelOkButton("Submit", resetRatingAndFeedbackForm, sendRating);
modalPopup.removeCloseModalIcon();
modalPopup.disableDismissPopup();
modalPopup.open();
} else
sendRating(index);
}
function sendRating()
var requestPayload =
"post_id": 1751845,
"rating_value": ratingValue
if (ratingValue > 3)
requestPayload.rating_feedback_type = null;
requestPayload.rating_feedback = null;
else
if (!$('input[name="drone"]:checked')
pureJSAjaxPost(addratingAPI, requestPayload, onsaveRatingSuccess, onsaveRatingFail, function() , true);
function resetRatingAndFeedbackForm()
var activeStars = Array.from($all('.rating span.rating-star.active'));
for (var i=0; i = 0)
return true;
else
return false;
function getRatingCountByPostId(postId) {
return new Promise(function(resolve, reject)
pureJSAjaxGet(
getRatingCountBaseURL + postId + '/rating/count',
function(data)
try
data = JSON.parse(data);
if (data.meta_value)
resolve(data.meta_value);
reject("Failed to fetch rating count for the post:" + postId);
catch (err)
reject("Failed to fetch rating count for the post:" + postId);
,
function(err)
reject("Failed to fetch rating count for the post:" + postId);
, true);
);
}
function showErrorMessage(messageType)
var messageContainerId = '#' + messageType + '-error';
$(messageContainerId).classList.remove('hidden');
window.setInterval(function ()
$(messageContainerId).classList.add("hidden");
, 5000);
(function() {
var callFired = false;
function lazyLoadPostRating() {
if (callFired) return;
callFired = true;
if (!isPostRatedByUser())
getRatingCountByPostId(1751845)
.then(function(ratingCount)
if (ratingCount < 5) var fas = Array.from($all('.rating .fa')); for (var i=0; i < ratingCount; i++) fas[i].classList.add('active'); document.querySelector('.post-rating-count').innerHTML = ratingCount + " ratings received"; ); } window.addEventListener('scroll', lazyLoadPostRating); window.addEventListener('mouseover', lazyLoadPostRating); lazyLoadPostRating(); })();
"
var fbPixelFired = false;
document.addEventListener("scroll", function() loadFBPixel() );
document.addEventListener("mousemove", function() loadFBPixel() );
function loadFBPixel()
if(fbPixelFired)
return;
fbPixelFired = true;
!function(f,b,e,v,n,t,s)if(f.fbq)return;n=f.fbq=function()n.callMethod? n.callMethod.apply(n,arguments):n.queue.push(arguments);if(!f._fbq)f._fbq=n; n.push=n;n.loaded=!0;n.version='2.0′;n.queue=[];t=b.createElement(e);t.async=!0; t.src=v;s=b.getElementsByTagName(e)[0];s.parentNode.insertBefore(t,s)(window, document,'script','https://connect.facebook.net/en_US/fbevents.js'); fbq('init', '952063904834769'); fbq('track', "PageView"); fbq('track', 'ViewContent');