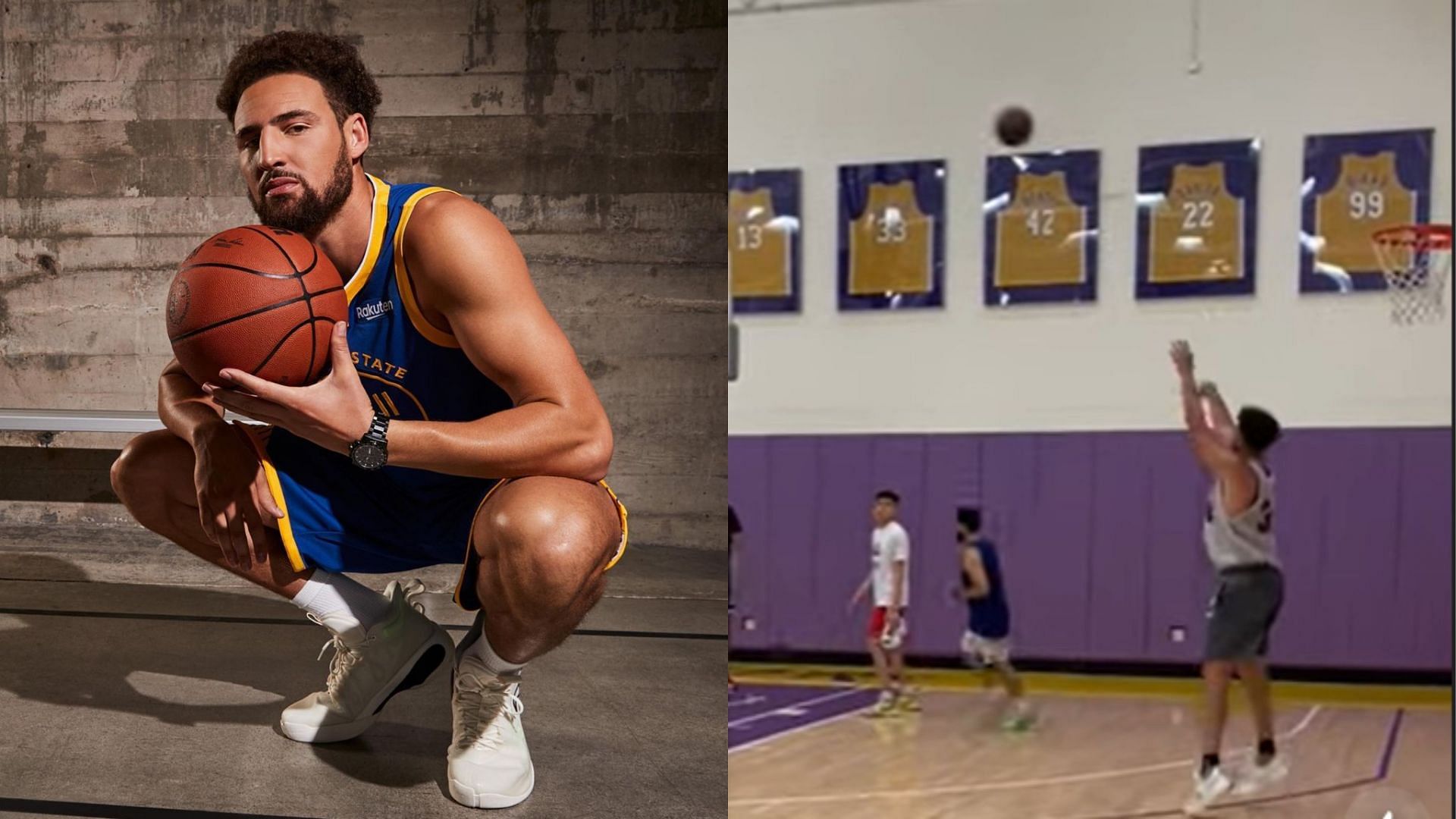 The Golden State Warriors and Klay Thompson couldn't agree on a contract extension, fueling trade rumors amid concerns about his subpar performance this season. A career 41.5% 3-point shooter,
he is only shooting 32.9% from deep in the 12 games the Warriors have played so far this season.
Amid these rumors, notorious parody account @TheNBACentel on Friday posted a video of Thompson supposedly working out and drilling 3-pointers in an LA Lakers facility on X (formerly Twitter).
Additionally, the facility where Thompson was captured on video working out is not a Lakers facility. Although the basketball court is adorned with Lakers colors and features a logo at the center, it is merely a duplicate of the Lakers' court situated at the residence of Steve Jackson, the chairman of LA Gear, located in Bel Air. The Lakers conduct their practices at the UCLA Health Training Center in El Segundo, California, which also serves as the home for the South Bay Lakers of the NBA G League. Thompson has deep connections with the Lakers. He was born in Los Angeles, and his father, former NBA player and No. 1 pick Mychal Thompson, is currently a radio color commentator for the Lakers.
Stephen A. Smith has expressed concern about Klay Thompson's shooting difficulties, raising doubts about whether Thompson still possesses the capability to contribute to a championship-caliber team. The Warriors lost to the OKC Thunder on Thursday, 128-109, in a game Steph Curry and Draymond Green missed due to injury and suspension, respectively. Thompson struggled to make an impact, registering only five points on 1/10 shooting from the field and 1/6 from 3-point range. Thompson's statistics have seen a notable decline this season. As someone who averaged 21.9 ppg in the previous season, he is currently posting an average of 13.8 ppg. His three-point shooting has also experienced a dip, going from 41.2% on 10.6 attempts per game last year to 32.9% on 6.8 attempts this season.