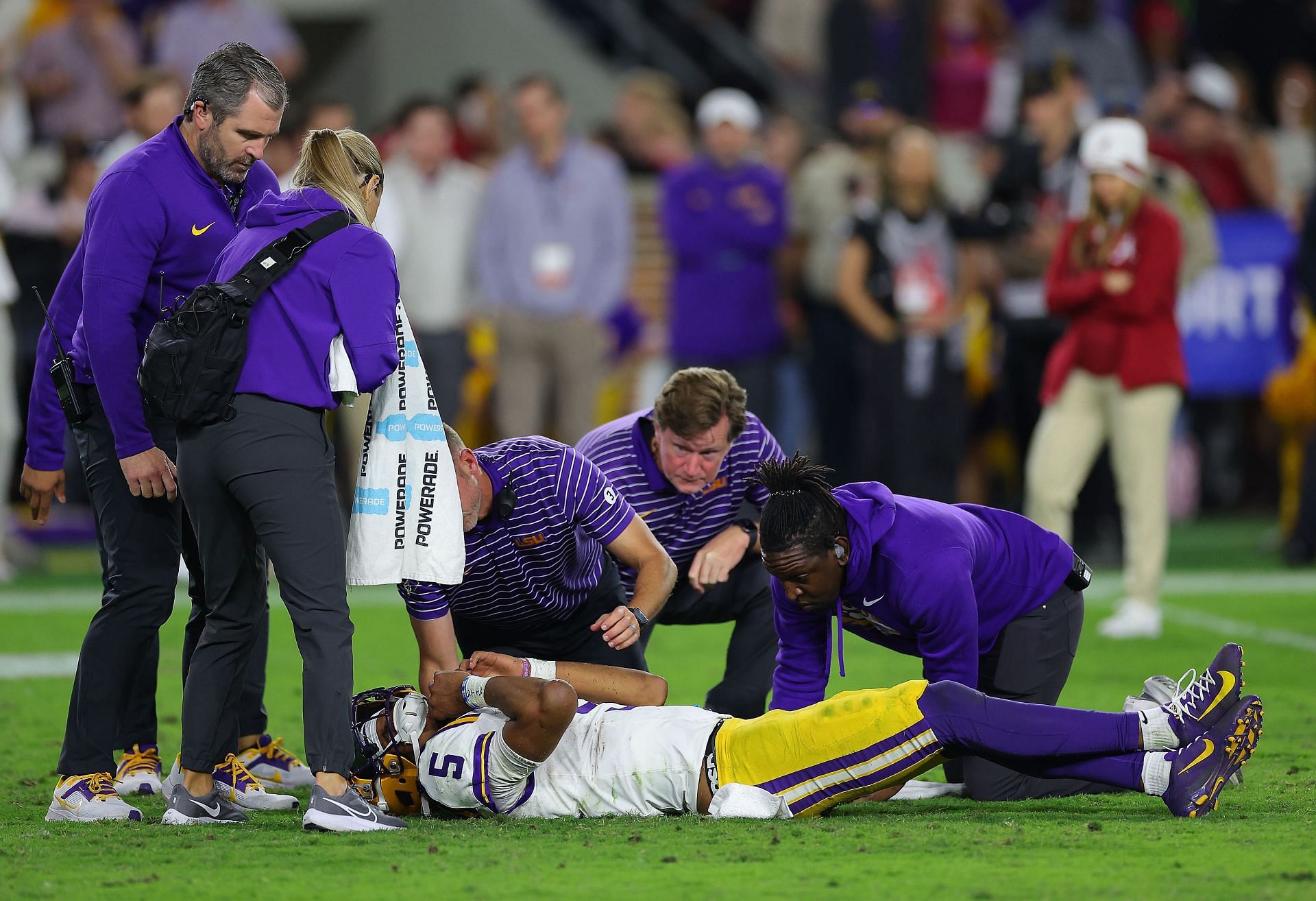 Jayden Daniels left Saturday's 42-28 loss to Alabama with a head injury. Early in the fourth quarter, the LSU quarterback was seen lying down with his face on the ground following a hit, which drew a roughing-the-passer flag.
Daniels has since then been labeled a doubt for the No. 18 Tigers (6-3, 4-2 Southeastern Conference) crucial Week 11 home game against Florida (5-4, 3-3 SEC) on Saturday, Nov. 11. His availability will undoubtedly be a significant factor in the upcoming contest, considering his contribution to the team through the course of the season.
---
Jayden Daniels' injury update
According to LSU coach Brian Kelly, Daniels is progressing through concussion protocols and is on course to potentially participate in the game against Florida this weekend, provided there are no setbacks.
Kelly gave an update on the quarterback status on an SEC teleconference call on Wednesday, offering some hope of a return to action following the hard hit against Alabama.
"He worked out this morning, and it appears as though that workout went well, which is the last stage before he's cleared for non-contact practice," Kelly said. "So we're expecting him to practice today. If all things go well through practice today, then he'll be cleared for contact on Thursday.
"I believe that our medical people put him in what is called our concussion protocol. I don't know what the specifics are, but it certainly triggered our protocol for concussions."
---
What happened to Jayden Daniels?
Jayden Daniels suffered a head injury last weekend after absorbing a hit from Alabama linebacker Dallas Turner in the fourth quarter. Despite his attempt to continue the game following the injury, the quarterback had no chance as he made his way to the injury tent.
"He had a head injury and was not able to come back," Brian Kelly said after the game. "We obviously have to put him through more testing before I can accurately say that it was a concussion, non-concussion, things of that nature."
---
When will Jayden Daniels return?
Barring any unforeseen incident, Daniels will start the game against Florida at the Tigers Stadium in Baton Rouge on Saturday. He returned to practice Wednesday and is expected to be cleared for contact by the medical team on Thursday.
The quarterback has accumulated 2,792 passing yards and thrown 27 touchdowns with a minimal four interceptions. In addition to his prowess through the air, he has showcased his skills as a dual-threat quarterback by rushing for 684 yards and six touchdowns.