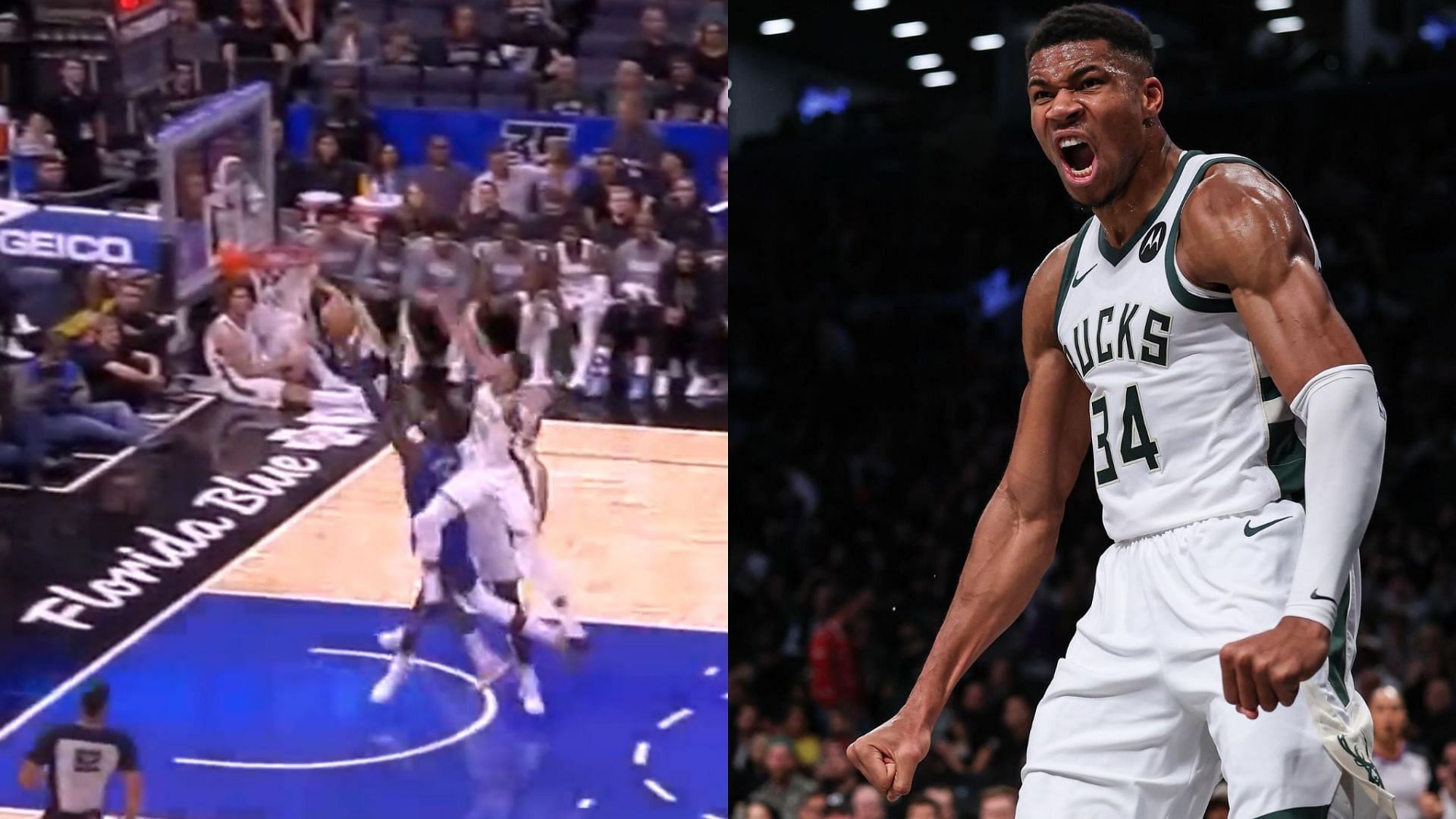 Giannis Antetokounmpo is making a strong impact with his two-way performance early in the season. During Saturday's game between the Milwaukee Bucks and the Orlando Magic, the "Greek Freak" impressed with a highlight chase-down block.
While orchestrating the offense, Antetokounmpo's pass to Bobby Portis at the perimeter was intercepted by Jonathan Isaac, triggering a fastbreak for the Magic.
Despite initially trailing Isaac by a few steps, the Bucks' star showcased his remarkable athleticism and speed by blocking Isaac's layup attempt on the fastbreak.
The play drew amazement from fans, with some noting how he gave his best despite it being only the first quarter.
Antetokounmpo averaged 28.1 points, 9.4 rebounds and 3.4 assists per game in the first eight games. He averaged 56.6% from the field.
Antetokounmpo holds the top spot for the Bucks in points per game, securing second place in blocks and third in assists. He averages a playing time of 31.8 minutes per game, trailing only Damian Lillard, who logs 33.7 minutes on the court.
Despite struggling with a 25% success rate from beyond the arc and a 68.3% accuracy at the free-throw line, Antetokounmpo's overall influence on the game is substantial.
When he's on the court, the Bucks experience a boost in total rebound percentage, increasing by 12 points. The team's block percentage also sees an uptick of 5.6 points, highlighting his considerable impact on defense.
Giannis Antetokounmpo makes history in recent loss
Despite a remarkable 54-point, 12-rebound performance against the Indiana Pacers on Thursday, Giannis Antetokounmpo found himself on the unfortunate side of history.
The Pacers tarnished Antetokounmpo's season-high performance, securing a 126-124 victory against the Bucks.
According to ESPN Stats & Info, he became the first player in NBA history to lose a game despite scoring 50 points, maintaining a 75% field goal percentage, and grabbing ten rebounds.
Following the game, he shared a positive message on Instagram.
"54. 45. 5. It doesn't matter. A lot of good things we can learn from today to get better," Antetokounmpo said.
The Bucks are currently on a 5-3 record. In the last two games, they have been without the services of Damian Lillard, and Antetokounmpo has had to shoulder a substantial offensive burden as his co-star recovers from a calf injury.
After their matchup with the Magic, the Bucks are set to take on the Chicago Bulls, Toronto Raptors, Charlotte Hornets, Dallas Mavericks, and the Washington Wizards in their upcoming five games.
They are scheduled to face Lillard's former team, the Portland Trail Blazers, on Nov. 26.
"
modalPopup.closeOnEsc = false;
modalPopup.setHeader("Why did you not like this content?");
modalPopup.setContentText(modalText);
modalPopup.addCancelOkButton("Submit", resetRatingAndFeedbackForm, sendRating);
modalPopup.removeCloseModalIcon();
modalPopup.disableDismissPopup();
modalPopup.open();
} else
sendRating(index);
}
function sendRating()
var requestPayload =
"post_id": 1743446,
"rating_value": ratingValue
if (ratingValue > 3)
requestPayload.rating_feedback_type = null;
requestPayload.rating_feedback = null;
else !$(".post-rating-feedback-note textarea").value)
showErrorMessage('note');
return;
var selectedOption = $('input[name="drone"]:checked').value;
var feedbackNote = $(".post-rating-feedback-note textarea").value;
requestPayload.rating_feedback_type = selectedOption;
requestPayload.rating_feedback = feedbackNote;
pureJSAjaxPost(addratingAPI, requestPayload, onsaveRatingSuccess, onsaveRatingFail, function() , true);
function resetRatingAndFeedbackForm()
var activeStars = Array.from($all('.rating span.rating-star.active'));
for (var i=0; i = 0)
return true;
else
return false;
function getRatingCountByPostId(postId) {
return new Promise(function(resolve, reject)
pureJSAjaxGet(
getRatingCountBaseURL + postId + '/rating/count',
function(data)
try
data = JSON.parse(data);
if (data.meta_value)
resolve(data.meta_value);
reject("Failed to fetch rating count for the post:" + postId);
catch (err)
reject("Failed to fetch rating count for the post:" + postId);
,
function(err)
reject("Failed to fetch rating count for the post:" + postId);
, true);
);
}
function showErrorMessage(messageType)
var messageContainerId = '#' + messageType + '-error';
$(messageContainerId).classList.remove('hidden');
window.setInterval(function ()
$(messageContainerId).classList.add("hidden");
, 5000);
(function() {
var callFired = false;
function lazyLoadPostRating() {
if (callFired) return;
callFired = true;
if (!isPostRatedByUser()) {
getRatingCountByPostId(1743446)
.then(function(ratingCount) {
if (ratingCount