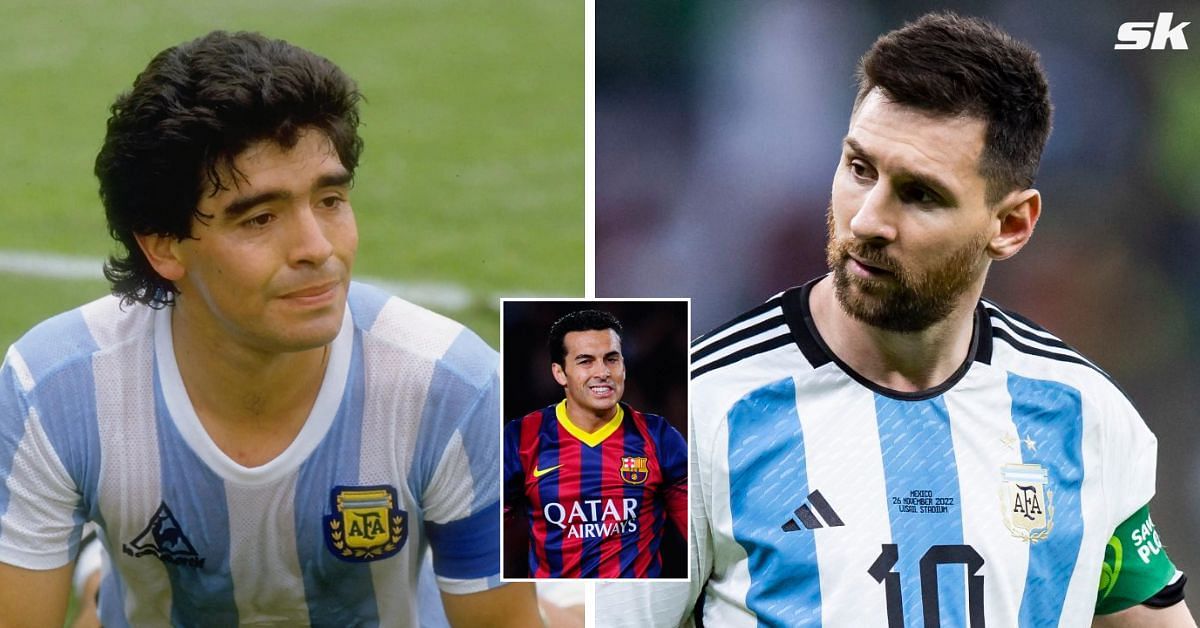 In a recent interview, former Barcelona star Pedro revealed his preference between Lionel Messi and Diego Maradona for the best footballer of all time. The Spaniard said that he would put his former teammate Messi above everyone else. He even went as far as to say that there is no comparison between the two Argentinians.
Pedro, despite being 36 years old, is currently an integral cog in Maurizio Sarri's Lazio side. Having recently surpassed the 100-appearance mark with the Eagles, the wide playmaker has amassed a respectable 19 goals and 11 assists during his tenure with Lazio.
While giving an exclusive interview with Sportitalia, Pedro answered his opinion regarding Lionel Messi and the Argentinian's supposed status as football's GOAT. The former Chelsea forward seemed to be pretty clear about his choice, saying: "Messi. There is no comparison with Maradona. His numbers are incredible. In all eras of football there have been many incredible players, such as Pele, Maradona, Cruyff. But, for me, if I have to choose one, it is definitely Messi."
Pedro's stance becomes evident considering the fact that he spent the majority of his club career at Barcelona alongside Lionel Messi. The pacy wideman was a crucial part of Pep Guardiola's all-conquering Blaugrana side of the early 2010s. He had the best seat to witness La Pulga work his wonders, having shared the pitch 270 times and combining for 54 goals.
Having graduated from the famed La Masia academy, the 2010 World Cup winner spent seven trophy-laden years at Barcelona, winning every club accolade. Pedro picked up 21 trophies during his time with the Catalan giants, including five league titles and three UEFA Champions League titles.
Lionel Messi could experience an emotional homecoming to Barcelona in the coming year. Many fans expected Lionel Messi to make a much-awaited return to Barcelona following the end of his contract with Paris Saint-Germain (PSG) in the summer. However, the Argentinian maestro chose to move to the United States, securing a deal with David Beckham's Inter Miami.
A suspected loan move to Camp Nou was also rejected following a disappointing end to his maiden MLS campaign with the Herons. However, Barcelona's president, Joan Laporta, recently hinted at Lionel Messi's possible return to Catalonia, saying: "It would be fantastic if Messi could be present at the Camp Nou's premiere. It has been discussed, and if it were in June 2026, it would be when the Spotify Camp Nou is finished. We will be returning in November 2024, and that could also be an important date."
At 36, the 2022 World Cup winner is already at the twilight of his career. Nevertheless, a return to Barcelona in any capacity would be a dream scenario for every football fan, especially the Culers.