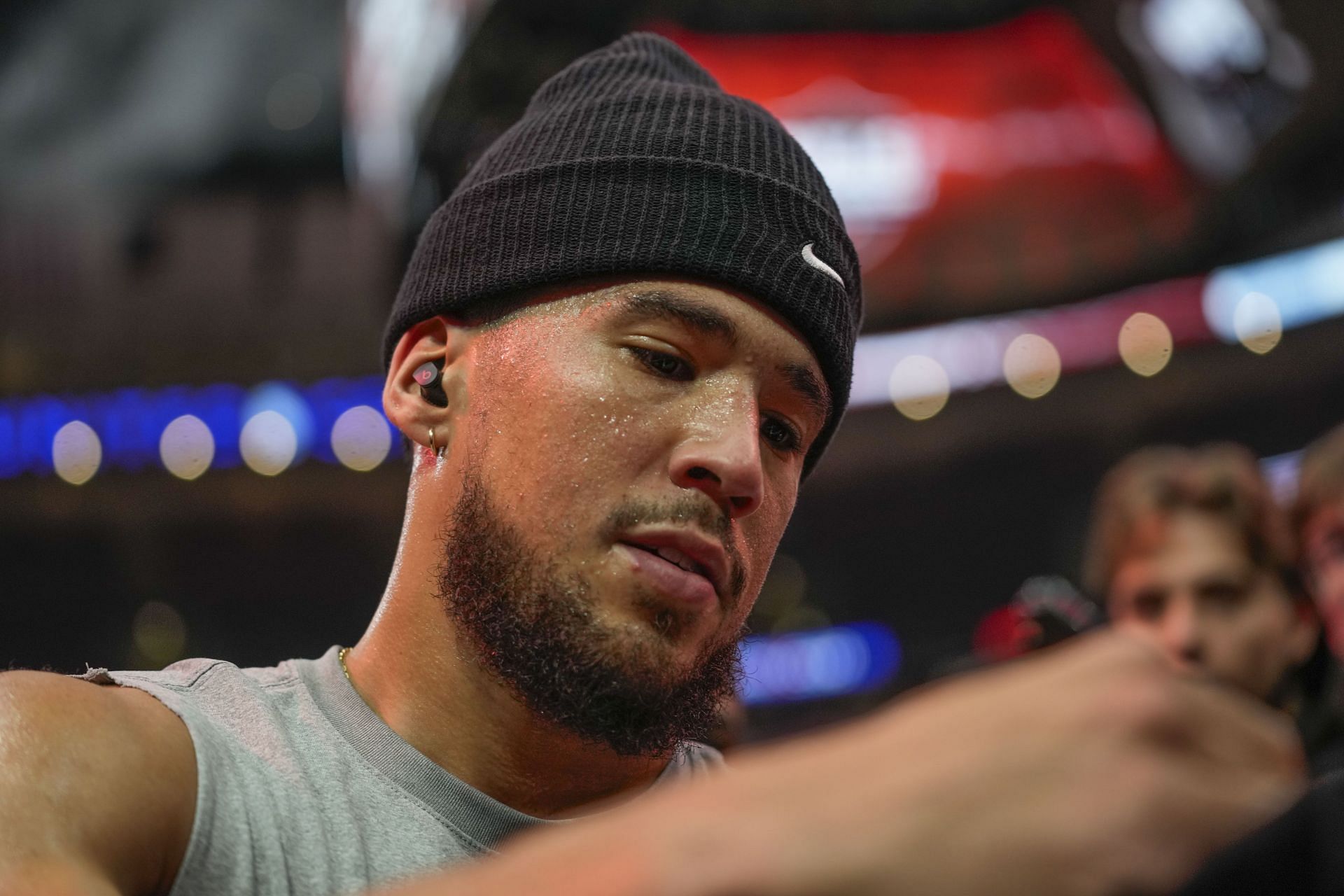 Devin Booker has only played two games this season, and despite the formation of a new trio with Kevin Durant and Bradley Beal, the Phoenix Suns started the season with a 4-5 record. As they approach the second game of a three-game home stretch on Sunday against the OKC Thunder, the Suns have labeled their star shooting guard as doubtful.
The doubtful status strongly suggests that Booker will likely be sidelined against the Thunder, who are currently ranked sixth in the Western Conference with a 5-4 record. According to Suns coach Frank Vogel, Booker is dealing with a right calf strain, which is an unfortunate development considering the guard has experienced ankle and toe injuries earlier in the season.
Other players in the latest injury report include the Suns' Damion Lee, who is marked as out, and the Thunder's Kenrich Williams, whose status is listed as day-to-day. After the Suns' 122-119 loss to the LA Lakers on Friday, Suns forward Kevin Durant expressed how important Devin Booker was to the team.
The trio of Booker, Durant, and Beal has not yet played together in the regular season. Booker's appearances have been limited to the Suns' season opener against the Golden State Warriors on Oct. 24, a game they won, and on Nov. 2 against the San Antonio Spurs. He averaged 31.5 points, 10.5 assists, and 7.5 rebounds in those two games. Earlier this week, NBA insider Shams Charania revealed that Booker was actively working towards a comeback.
Bradley Beal played in the Suns' last two games against the Chicago Bulls and the LA Lakers, resulting in one win and one loss. In these games, Beal averaged 18.5 PPG, 4.0 RPG, and 3.0 APG, shooting 50% from beyond the arc. Durant has been a consistent presence in all nine games, boasting averages of 30.2 PPG, 6.9 RPG, and 4.7 APG.