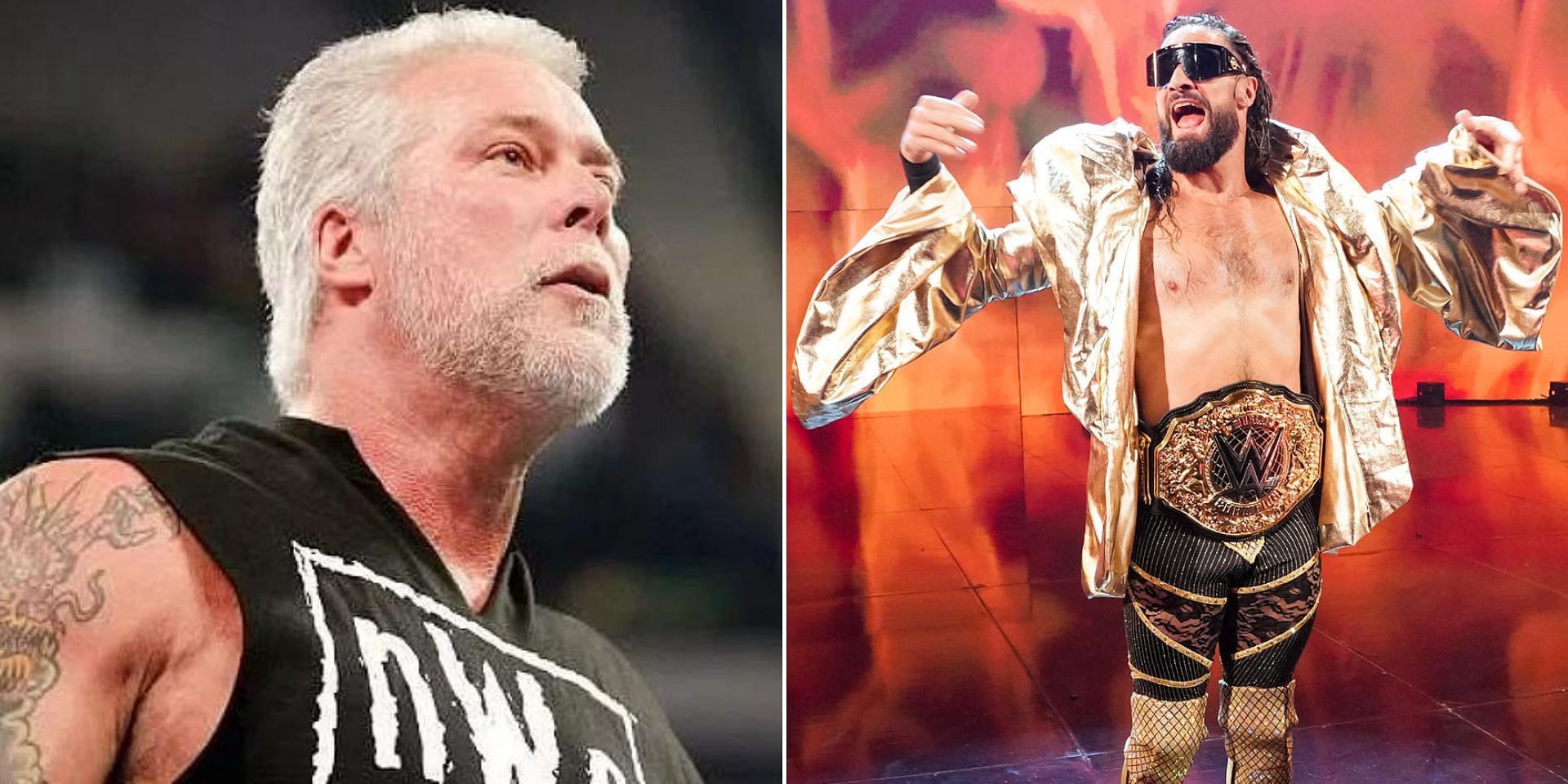 WWE Hall of Famer Kevin Nash has shared his thoughts on Seth Rollins' recent characterization in the wrestling ring, comparing him to the iconic Randy Savage.
As part of his gimmick, Rollins often sports flamboyant attire and dances his way to the ring while the crowd sings along to his theme song. This has drawn parallels to Randy Savage, who was also known for his unique style and is regarded as one of the greatest wrestlers of all time.
During an episode of Kliq This, former WWE Champion Kevin Nash revealed that he initially wasn't a fan of Rollins' character. However, he has come to view Rollins as a modern-day version of Randy Savage, noting the similarities in their personas and praising Rollins' exceptional in-ring abilities.
"I didn't like the Seth 'Freakin' character for quite a while. But then I just realized, in the last maybe two months, that he's kind of like the modern-day Macho. He has that kind of, the glasses and the…he's just got kind of a Macho Man vibe. If you were to modernize Macho Man, it'd kind of be Seth. Plus, he can work his f**king a** off. He's really f**king good," Nash said. (H/T Fightful)
---
Seth Rollins retained his World Heavyweight Championship on WWE RAW last week
During the latest episode of Monday Night RAW, Rollins defended his world title against Sami Zayn in the main event. Zayn earned the title shot after preventing Damian Priest from cashing in his Money in the Bank contract at Crown Jewel.
Seth Rollins emerged victorious against Zayn, retaining the World Heavyweight Championship. Having held the title for a significant duration, Rollins also secured a win against Drew McIntyre at Crown Jewel to maintain his status as the reigning champion.
With speculation brewing about his next challenger, fans are eager to see who will step up to dethrone Seth Rollins.
---
Who do you think will dethrone Seth Rollins? Sound off in the comments below!
EC3 gets heated discussing NWA allegedly losing their TV deal right here.
"
modalPopup.closeOnEsc = false;
modalPopup.setHeader("Why did you not like this content?");
modalPopup.setContentText(modalText);
modalPopup.addCancelOkButton("Submit", resetRatingAndFeedbackForm, sendRating);
modalPopup.removeCloseModalIcon();
modalPopup.disableDismissPopup();
modalPopup.open();
} else
sendRating(index);
}
function sendRating()
var requestPayload =
"post_id": 1745485,
"rating_value": ratingValue
if (ratingValue > 3)
requestPayload.rating_feedback_type = null;
requestPayload.rating_feedback = null;
else !$(".post-rating-feedback-note textarea").value)
showErrorMessage('note');
return;
var selectedOption = $('input[name="drone"]:checked').value;
var feedbackNote = $(".post-rating-feedback-note textarea").value;
requestPayload.rating_feedback_type = selectedOption;
requestPayload.rating_feedback = feedbackNote;
pureJSAjaxPost(addratingAPI, requestPayload, onsaveRatingSuccess, onsaveRatingFail, function() , true);
function resetRatingAndFeedbackForm()
var activeStars = Array.from($all('.rating span.rating-star.active'));
for (var i=0; i = 0)
return true;
else
return false;
function getRatingCountByPostId(postId) {
return new Promise(function(resolve, reject)
pureJSAjaxGet(
getRatingCountBaseURL + postId + '/rating/count',
function(data)
try
data = JSON.parse(data);
if (data.meta_value)
resolve(data.meta_value);
reject("Failed to fetch rating count for the post:" + postId);
catch (err)
reject("Failed to fetch rating count for the post:" + postId);
,
function(err)
reject("Failed to fetch rating count for the post:" + postId);
, true);
);
}
function showErrorMessage(messageType)
var messageContainerId = '#' + messageType + '-error';
$(messageContainerId).classList.remove('hidden');
window.setInterval(function ()
$(messageContainerId).classList.add("hidden");
, 5000);
(function() {
var callFired = false;
function lazyLoadPostRating() {
if (callFired) return;
callFired = true;
if (!isPostRatedByUser()) {
getRatingCountByPostId(1745485)
.then(function(ratingCount) {
if (ratingCount